News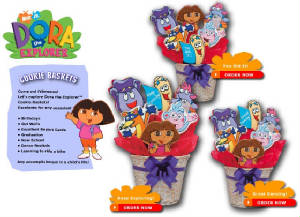 http://www.clevercookie.com/nickelodeon/nick_dora.html
COOKIE BASKETS!!!!!!!!!
GOt a child that you know loves Dora. There is a site that makes Dora cookies and then sends them to the kids. WAY CUTE!!!!!!!!!!!!!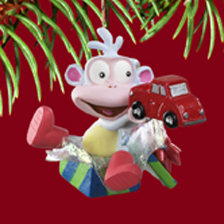 Christmas ornaments are coming and Dora and boots are here as ornaments.
In this column I'll include any breaking news, such as information on upcoming toys that you can buy. Where to find them and where the best deals are.
8/27/02 Today a wonderful mother emailed me telling me that Leap Pad has made a book for their My First Leap Pad. The books range for about $14.99. If you go to
www.leappad.com
you can order them online. They whould be out by Sept.
8/20/02 Costco Warehouse has gotten in the new Dora the Explorer PC game. It is about 14.99. There will also be a second game that will be coming out. Enjoy.
FISHER PRICE TOYS has done it again. I was at Toys R US today and there they were three new Dora toys.
1. We Did it! Dancing Dora
2. Dress me Dora.( a doll with hair and clothes to change)
3. Action figure set. ( Boots, Swiper, Dora were the figures, the map is the board for you to play on that rolls back up and talks to the character. Backpack is a small backpack that everything fits in.
Also at Toys R Us was BOY PJ. I could not believe it. There was a Swiper and a Boots. Both were very cute. They are 14.99. I got mine on sale for 10.00.

Right now I know that Lisa's toys is selling Dora the Explorer merchandise from Learning Curve.

Target, Walmart and Kmart do have some Dora the Explorer stuff.
There are now Dora the Explorer books out there. I have seen them at bookstores, Walmart, Target and at discount stores like Tjmax, Ross and Marshalls.
Certificate books are out there as well. These books have stickers and such in them. There are also coloring books out there.
So, now that the toys are coming ever so slowly keep your eyes peeled. You might just run into them in a store near you.
THE BIGGEST NEWS OF ALL!
Dora party supplies are in. I just saw them at my local Walmart.

Robinson's May, Hechts, and Kaufmann's are selling some Dora, Boots and Swipers for 9.99. They do have little girl outfits at all Roninson's May stores But From what I am finding the stores are slow at getting them.

THEY ARE FINALLY HERE. You can now get Dora merchandise at May company stores. I was able to buy a Swiper and Boots. They say it will be shipped and recieved in 5 to 9 days. The cost is 12.99 for boots, swiper, Dora is 16.99. There is then a 3.00 shipping charge. BUT AT THIS POINT NO BACK ORDERS.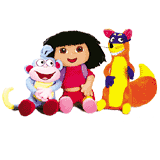 Payless shoes now sells Dora shoes.
You can also find a few toys and things at the Walmart.
Dora toys are starting to be every where. They are just hard to find.